SyncScribe Software
Video and Audio Transcription / Translation Tool
SyncScribe is a Windows tool for transcribers and translators. SyncScribe saves time when authoring text of time-coded video and audio files with powerful shortcut keys. Order Here.
NEW: Version 3.68 Released.
April 2017: We now accept Discover card.
Reduced Pricing May 2017
Check Price and Order Here.
Repetitive keystrokes reduced by 90%!
Free 30 day trial. Download Page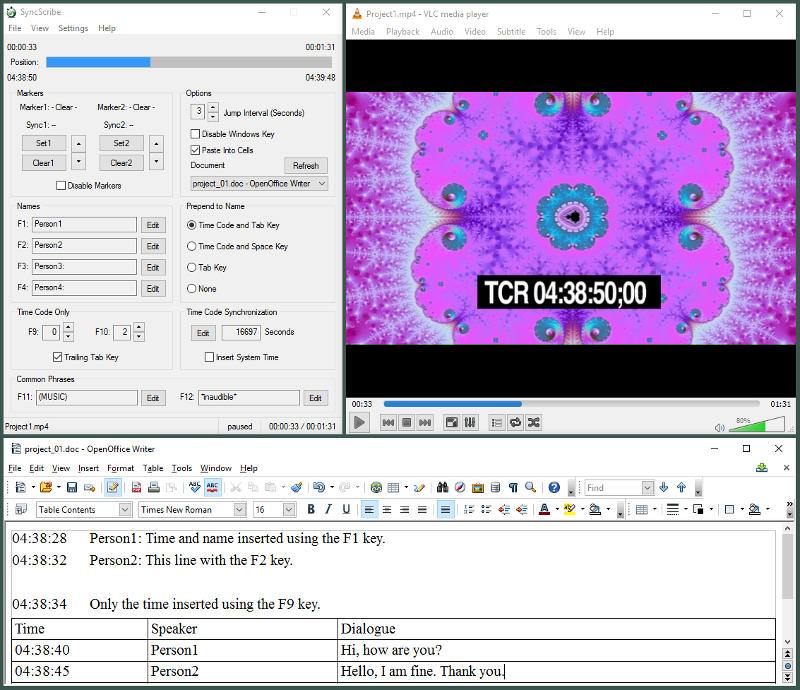 Easy to use, just hit the shortcut keys.
Shortcut keys will insert text directly into your word processor window.
For example, press the F9 key and have the current position (time) of a video inserted into an Excel spreadsheet.
As another example, press the F1 key to paste a pre-configured "speaker name" and current video's "playing position" into a Word document.




+


+

Complete list of shortcut keys here.
Many shortcut keys are available but you need only master a few to be effective.

Videos with imbedded ("burnt in" or BITC) time codes can be properly handled using SyncScribe's synchronize feature. Synching an imbedded video timecode explained.

Syncscribe pays for itself quickly for professionals handling video translation and transcription in quantity.

SyncScribe works in tandem with:
Windows Media Player
VLC Media Player
Media Player Classic
SyncScribe contains no spyware, no ads, and no user tracking.