SyncScribe
A Video and Audio Transcription / Translation Tool
SyncScribe is a Windows application for transcribers and translators, a big time saver when authoring text of time-coded video and audio files with powerful shortcut keys. Reduce repetitive keystrokes by 90%!

Syncscribe pays for itself quickly for those handling video translation and transcription in quantity.

January 2019, New Release: Version 4.00
Order Here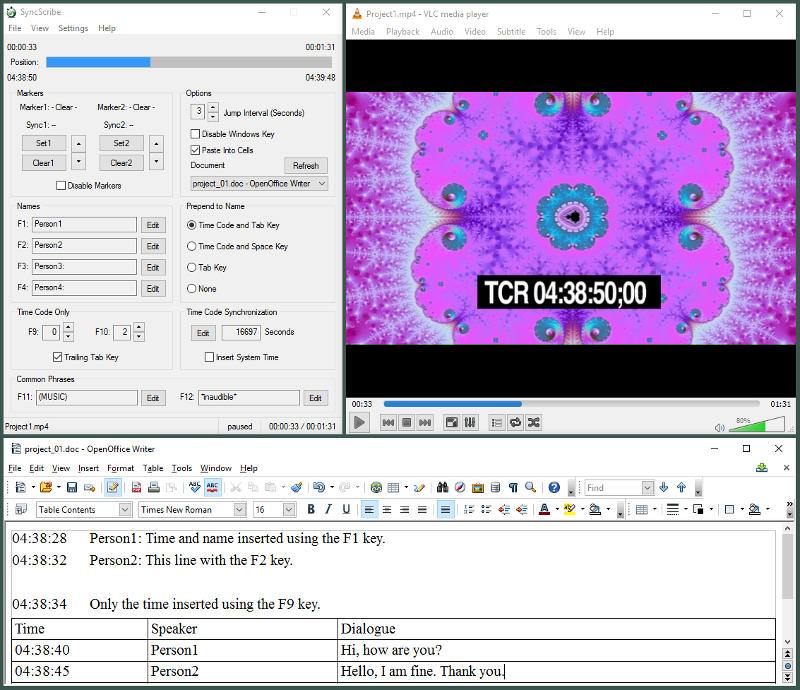 SyncScribe (Shareware)

Try all features free for 30 Days, Updated January 2019
Version 4.00 Windows 2 MB
Fully featured video translation tool to quickly author time-coded transcripts. Powerful shortcut keys to insert timecode and other text into MS Word or other applications.
SyncScribe Lite (Freeware)

Freeware (Lite version), Updated January 2019
Version 4.00 Windows 2 MB
Simplified version of SyncScribe, the video translation tool. Quickly insert the run-time of a media file into text documents using the F9 shortcut key.
Overview:
Easy to use, just hit the shortcut keys.
Shortcut keys will insert timecodes and preconfigured formatted text directly into your document window.
For example, press the F9 key to automatically insert current position (timecode) of a playing video into MS Word, Excel, or Libre Office Document.


Press the F1 key to paste a pre-configured "speaker name" and video's current run-time into a MS Word or Libre Office document. *Feature not available for the freeware "Lite" version.


To toggle play/pause of the media player, press Ctrl + Space Bar. (Reduce repeatedly switching between media player and document windows)


+

To rewind (jump backwards), press Ctrl + Left Arrow.


+

New for SyncScribe v4.00!

Shortcut keys for inserting SRT subtitle formatted timecodes with "-->" (arrow) for quicker creation of subtitles! (CTRL+F9, CTRL+SHIFT+F9,)


+

Videos with imbedded ("burnt in" or BITC) time codes can be properly handled using SyncScribe's synchronize feature. (not available in freeware)

Thus using shortcut keys will properly insert timecodes displayed within the video and not the acutal play-time.

SyncScribe calculates the time difference between playtime and imbedded timecode. More details about Time Code Synchronization here.







+


+


+

For more details about the shortcut keys, visit "About SyncScribe" page.
Many shortcut keys are available but you need only use a few to greatly increase productivity.

SyncScribe works in tandem with:
Windows Media Player
VLC Media Player
Media Player Classic
SyncScribe VS. SyncScribe Lite:
Features / Specifications

SyncScribe


SyncScribe Lite


License
Shareware
30 Day Trial
Freeware
OS Platform
Windows
Windows
Integrated to work with 3 popular media players.

Windows Media Player (Plug-in)
VLC Media Player
Media Player Classic

Yes
Yes
Works with any word processor or spreadsheet application.


MS Word MS Excel
LibreOffice Writer/Calc
OpenOffice Writer/Calc
Notepad, etc...

Yes
Yes
Seek Shortcut Keys for controlling media player.


(Play/Pause, Jump Back, Jump Forward)

Yes
Yes
Shortcut keys for inserting "-->" for authoring SRT subtitles.


CTRL+F9, etc..

Yes
Yes
Shortcut key for inserting simple timecodes
(format example: HH:MM:SS,mmm)


(Simple formats such as milliseconds precision, comma or point for separator.)

Yes
Yes
Adjustable jump interval for Seek Shortcut keys.
Yes


Any whole value from 2 to 30 seconds.

No


Jump Interval set to 5 seconds.

Advanced customization of timecodes


(Full cutomization of delimter, brackets, frames, etc..)

Yes
No
Time Code Synchronization


(Properly handle burnt-in (imbedded) timecodes in videos. Achieved via calculating the time differential between the actual play-time and imbedded timecode.)

Yes
No
Insert timecodes with offsets to help author text faster.


(Convenient for inserting timecode after listening to dialogue for a few seconds. Thus allowing inserting timecodes offset from the current location.)

Yes
No


Timecodes without offsets.

Other convenience features


Temporary disabling of "Windows key" to prevent mistype.
Document selection for ensuring document window is selected (window is focused with active cursor).
"Paste into cells" for inserting into multiple contiguous cells of tables/spreadsheets.
etc..

Yes
No
Insert System Time instead of timecodes.
Yes
No
Common Phrases Shortcut Keys for quick insertion of commonly occurring phrases. (F11, F12)
Yes
No
Insert text such as pre-determined name along with the timecode.
Yes
No
Marker feature for looping playback of media.
Yes
No
SyncScribe contains no spyware, no ads, and no user tracking.