SyncScribe: Order - Step 1 of 2
Step 1:
Customer Information,
Quantity, and Payment Type
Step 2:
Payment Information,
Review and Submit Order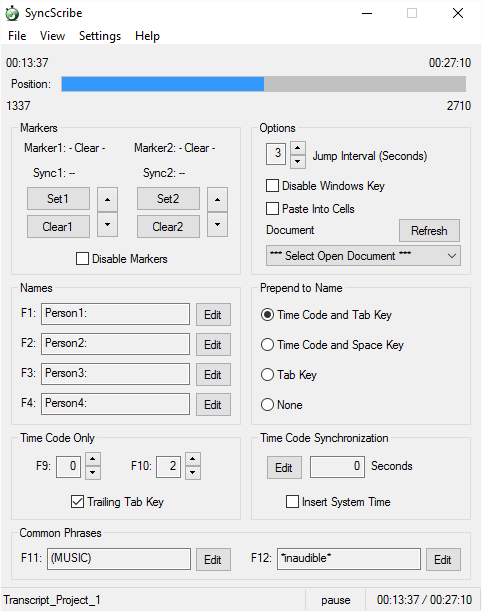 The Order process is as follows:
Step 1, fill in order information.
Step 2, enter and confirm payment information. We will send you a confirmation email.
After we process your order, you will receive another email with the license file.
This will complete the transaction.
April 2017: We are happy to announce we now accept Discover credit.
Download Latest Release
Orders are normally processed within 1 business day. The license key will be sent to your email address when payment is confirmed.
SyncScribe uses per-seat licensing:
2017 SyncScribe Reduced Pricing
License Type
$ USD*
€ EUR*
£ GBP*
¥ JPY
1 Seat License (New Purchase)
Good in perpetuity

Now $13

€11

£10

¥1,500

1 Upgrade License (Extension for 1 Year)
If you want to upgrade to the newest version

Now $4

€3

£3

¥500

Exchange Rate
$1 ≈ ¥111
1€ ≈ ¥129
1£ ≈ ¥144

*

Our payment system uses Yen, the weak Yen makes this a good time to order!
Please purchase a license for the total number of users (seats).
The license can be used indefinitely for any version released on or before the date of purchase.
Obtain an upgrade license to be able to upgrade to a version released after the date of purchase.
Get 1 year of upgrades with a purchase right now.
If you order an upgrade license to extend your upgrade period, any remaining time on the old period
will be properly rolled over to your renewed upgrade period.
---
Start the license order/upgrade process:
Required fields are labeled in red. Use the TAB key to move to the next field.
Move to Step 2 by selecting the "Next Step" button.
Step 1:
Customer Information,
Quantity, and Payment Type
Step 2:
Payment Information,
Review and Submit Order
Your privacy is very important to us. Please see our
Privacy Policy
for more information.